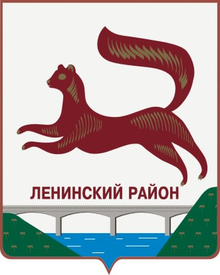 Development of the district's economy is provided by enterprises of industry, transport, construction complex, trade and services.
Today In the district more than 30 large and medium-sized enterprises , 3,000 small business entities, about 2,000 individual entrepreneurs work in the district.
Infrastructure of the enterprises of the consumer market of the district includes 281 stationary shopping facilities (food - 131, non-food - 150), 82 non-stationary, 9 shopping and service complexes, 109 public catering establishments and 338 service enterprises.
Currently 16 building enterprises operate on the territory of the district
The educational space of the Leninsky district of Ufa includes 18 kindergartens, 4 schools, 2 gymnasiums, 3 educational centers, 2 lyceums, 5 supplementary education institutions, in which 20,240 children are trained and brought up.
Ten State health care institutions and 7 private medical centers work In the district. The leading health care centers working in the district are the Republican Dermatovenerologic Dispensary 1, Polyclinic 44, Municipal Hospital 9, Children's Polyclinic 6, Dental Clinic 9. The Road Center for Restorative Medicine and Rehabilitation of JSC Russian Railways.
The spiritual development of the inhabitants is also facilitated by the activities carried out by cultural institutions.Today there are 2 music schools, the Culture House "Yadkar", the Bashkir State Philharmonic Hall named after Kh.Akhmetov with a beautiful organ music hall, the Ufa Art Gallery, the Miras Gallery, the Bashkortostan Museum of Modern Art of the Republic of Bashkortostan named after N.Latfullin, the Museum of Geology and Mineral Resources of the Republic of Bashkortostan, the small exhibition hall of the Union of Artists of the Republic of Bashkortostan, the cinema "Cinema Park", two mass and one children's library.
Huge work is being made with the teenagers and youth, in particular by the facilitators , teachers of municipal institution " Association of Youth Clubs "Aliye Parusa"
An integral part of the development of a healthy society is physical education. Sport skills and sports of the highest achievements in the district are formed on the basis of the Sports Training Center of the highest sports skills of the Republic of Bashkortostan, the Republican boarding school 5 of the sports profile, the professional draft club " Bashneft " and the sports schools of the Olympic reserve "Hercules"